UPDATE: K-OTIC Building New Production Studio, Speaks On Upcoming Releases, and more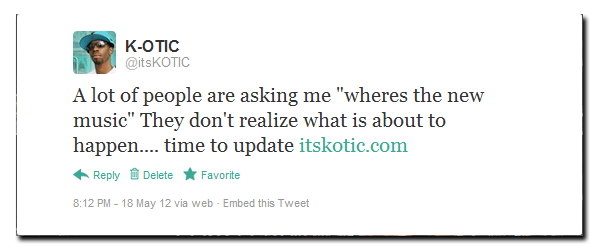 K-OTIC Building A New Production Studio
A lot of my supporters and fans have been asking me as to when they should be expecting new material. Unless you've been following me via Instagram (@ itsKOTIC) you were probably unaware that I am currently working on a new production studio that should be up & running within the next few wks. My new production studio will not only act as my new home when it comes to producing hits, it will also be where I will run my marketing and promotional campaigns, be available for meetings and since I plan on getting more involved with youtube, expect a lot of footage as well. All in all this will be my home base. In regards to the studio, I definitely got to thank those who have been helping me get this project up and running & I appreciate everyone's patience, expect good quality music and production through out the rest of the year.
Upcoming Releases
Miles AMills "The Love Movement" album is set to be released within the next few months. I was able to hear some new material and believe me when I say it is spiritually uplifting. Good music & a good message is what one should expect.
Once my production studio is up an running I will be working on brand new material and releasing a brand new project in August.
More Updates...
Besides that, be on the lookout as well for a new website I will be releasing in the near future, my new affiliation with a new production group as well plus many more. God bless all.